創業175年目に当たる節目の年2013年、フランス・パリにて展覧会を開催し、新作を発表いたしました。四日間に渡ってご紹介いたします。
。。。。。。。。。。。。。。。。。。。。。
(English follows Japanese)
まず、第一日目にご紹介させて頂くのは
今回の新作の中でも一番個性的な作品。。。
このなんとも言えない愛らしい姿。
見る人が皆心を奪われる、この三足の蛙。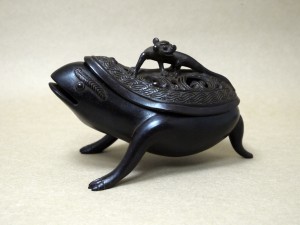 京都の洛中、清課堂の近くにある本能寺。
「三足の蛙の香炉」は、この本能寺の宝物として現存し
不思議な逸話を残しています。
戦国時代の武将、織田信長が、この本能寺に宿泊中に
家臣の明智光秀に謀反を起こされ自害に追いやられます。(本能寺の変)
この、謀反の前夜、本能寺にあった「三足の蛙の香炉」が突然鳴き出し
信長に命の危機が迫っていることを知らせたと伝えられています。
この「三足の蛙の香炉」は武将達が活躍した時代よりも遥か昔に
中国から伝来し、時を越えて本能寺に伝わったもので
「蟾蜍センジョウ」と呼ばれる中国の幻獣になります。
中国では、この幻獣が現れると長寿と吉祥をもたらすといわれています。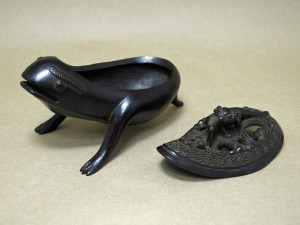 「三足の蛙香炉」 創業175年記念10体限定品「  
サイズ 約 16cm×8cm×9.5cm  青銅 古銅色
※SOLD OUT こちらの製品は完売いたしました。
※コンセプトや設計から見直しリデザインした作品を発表しております。
(staff nakano)
関連するご案内
・175年・・・そして、これからへと
・三足の蛙 香炉 / Three-legged Incense Burner
・酒器 ここのえ
・銀湯沸しの茶籠
---
"Three-legged Frog Incense Burner"                    March/2013

As the first item of our new series we would like to introduce the most unique product of them all.
And what a charming figure it is.
Everybody who has seen it, instantly fell in love with this three-legged frog incense burner.
In the middle of Kyoto City, there is a temple called Honno-ji which is near Seikado.
The 'three-legged frog incense burner' is treasured at Honno-ji Temple and has remained as a symbol of a mysterious tale.
During the period of civil war in Japan, the commander Oda Nobunaga was staying at Honno-ji,
when his samurai general called Akechi Mitsuhide forced him to commit suicide.
During the previous night, the three-legged frog incense burner at the temple suddenly began to croak to let Nobunaga know that his life was in great danger.
The incense burner originally came from China a long time before the samurai period and was handed down to Honno-ji Temple.
The frog is known as "Senjyo", which is a Chinese mythical creature.
The presence of this mythical creature is believed to bring longevity and happiness in China.
Three-legged Frog Incense Burner
Size:
Approx. 10cm x 8cm x 9cm
Bronze
Limited to 10 pieces
※ SOLD OUT 
※ We released a new product.