About order
We take American Express , VISA, Master, JCB credit card.
I will send you E-mail that wrtten about payment total price ( with shippment & remmitance fee ).
We are using PAYPAL.
Please make a payment with your credit card as you follow the PayPal guideline.
The exchange rate will be applied the order day rate US$ to JPY.
We charge a remittance fee of 5% of the total cost in Japanese yen, including postage.
Shippment = EMS from Japan (Japan Post Survice)
Please check rates and deriverly days. Click here!
PAYPAL
https://www.paypal.com/




The tax-free procedure
The tax-free procedure will take about 30-60 minutes.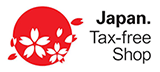 Our bank account information
(Please burden bank transfer fee at your expense)
Name of bank :  Mizuho kyoto-chuou branch
Account name :  Seikado corporation
Account number : 473-2188059
Routing number : We don't have routing number
Swft cord : mhbkjpjt
Product recommendation
Because of the low melting temperature, don't expose the pewter ware to direct fire.
Extremely cold temperature can also deteriorate the metal, therefore don't store it in a freezer.
Avoid storing acidic substances in the pewter container for a prolonged time.
Maintenance
Pewter ware needs no special attention other than regular wiping, and a soft cloth can, for example, clean fingerprints off the surface.
Clean the pewter ware like any other dish after use, using a detergent and wiping it dry before putting it away.
The more you use it, the more beautiful it will be…
Contact
E-mail: info@seikado.jp (We can inform you in japanese and in english.)