(English follows Japanese)
霜月に入り、今年も残すところ後2ヶ月。
とりわけ今年は、時が過ぎるのを早く感じた1年になりました。
創業175年目の今年を一つの節目として、新たな一歩を歩み出すべく
年明けのフランスのパリでの展覧会に始まり、今年は例年より多くの新作を発表させて頂きました。
なかでも、通年を通してシリーズ化し発表させて頂いたのが「ここのえ」シリーズ。
「ここのえ」とは、"ものが幾重にも重なった"、"都"、そして又、内裏を「ここのえ」とも呼びます。
長い長い時の中で様々な文化が交わり、その中で幾重にも重なったものが伝統や技術となり、現在の私達に繋がっている。
パリも京都も、伝統や技術を培った都。
そんな思いから「ここのえ」と名付け、パリで発表の「ここのえ ぐい呑」、夏に発表の「ここのえゴブレット」、
そして、このシリーズの締め括りとして、発表させて頂くのが「ここのえビアカップ」。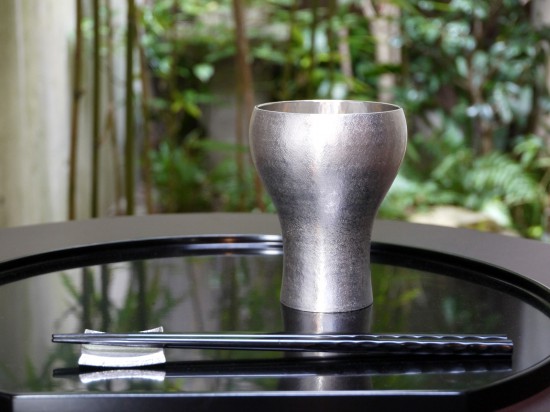 ビールは、季節を問わず、通年を通しお家で一番よく楽しまれるお酒。
お気に入りの、しっくり手に馴染むビアカップで、じっくりビールを楽しむ一時はいかがでしょうか。
そして錫は、長くお使いしていただけるもの。
「ここのえ」の名の様に、代々に渡り使って頂き、いつか又、清課堂でお手入れをさせて頂ける日がくるのを思いながら
今日も「ここのえビアカップ」を製作しております。
(staff nakano)
・ここのえビアカップ        
・およその容量:すりきり400cc入
・およその大きさ:φ90×115(mm)
・およその重量:310g
※缶ビール1本分がちょうど入る容量になっております。
~~内裏を「ここのえ・九重」と呼ぶ所以~~
紫宸殿(内裏において天皇元服や節会等の儀式が行われた場所)の南に18段の階段があり、陰陽思想では奇数は陽の数になり、
その陽数のきわみになる9が重なった数が18。 そこから「ここのえ・九重」と呼ばれるようになったのが所以。
お買い求めについて
京都寺町二条の店舗の他、オンラインストアからもご購入いただけます。
清課堂オンラインストアでは、この他各種新作も取扱いしております。
---
A pewter beer cup which fits beautifully in your hand.
November 2013
Drinking cup
As we enter November, there are only two months left until the end of the year.
This year in particular feels as if time has passed quicker than normal.
It was our 175th anniversary, so we held an exhibition in Paris in the early part of the year as a step forward to the future.
We also introduced more new products than usual.
In particular, we introduced the "Kokonoe" series of products throughout the year.
"Kokonoe" connotes "things that are layered over and over", "capital city",
while we also call the Imperial Palace a "Kokonoe".
Throughout a long history, many customs have crossed over between cultures,
layering traditions and technologies which have subsequently been passed on to us.
Both Paris and Kyoto cultivate their own tradition and technology.
With that thought in mind, we chose to call this series "Kokonoe".
We introduced our 'Pewter Sake Cup' in Paris, as well as our 'Pewter Goblet' this summer.
To complete the series, we now introduce the 'Kokonoe Beer Cup'.
Beer can be enjoyed at home throughout the year, in whichever season.
So why not enjoy drinking a beer with your favorite cup which fits perfectly in your hand.
Pewter ages well so can be enjoyed for a long time.
Like the name 'Kokonoe', pewter can be used from one generation to the next.
Kokonoe Beer Cup
・φ90mm (width) x 115mm (height)
・400cc (holds one can of beer)
・310g
○ Price is subject to change without prior notice.
Why we call the Imperial Palace 'Kokonoe'.
To the south  of an area inside the Imperial Palace called Shinshinden
(where the Emperor's coming of age ceremony and court banquets were held), there is a stairway of 18 steps.
In the theory of yin and yang, an odd number has positive power.
As the number 9 is extremity of positive, and is layered, it becomes 18.
So it came to be known as the 'Kokonoe・nine-layers'.