(English follows Japanese)
昨年の1月、清課堂175年の節目の年に、パリで展覧会をさせていただきました。
その展覧会のメインの作品の1つに、銀の湯沸しを収めた茶籠がございます。
野点をテーマに、天気の良い日には茶籠を携え、自然の中で季節の移ろいを感じながらお茶を楽しんでいただけたら。。。
そんな、思いからお作りさせていただいた銀の湯沸しの茶籠。
そして、もっとより気軽に楽しんでいただける様にと、今回お作りさせていただいたのがこの銅の湯沸しを納めた茶籠。
春はお花見、新緑の季節は野山へのピクニック、秋は紅葉狩りにと、季節毎の散策に携え、
その時々に彩られた自然の中でのひと時をお楽しみください。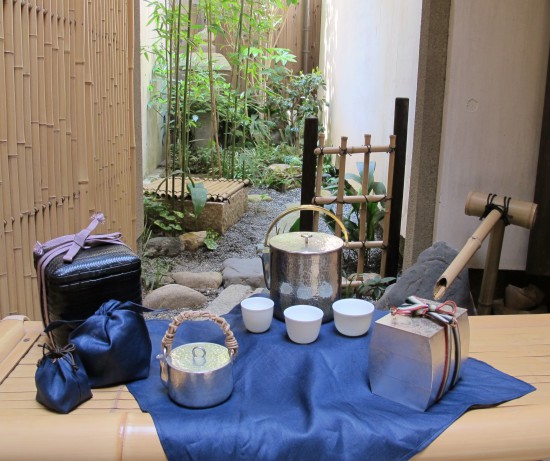 銅湯沸し茶籠揃     ※ sold out / 完売いたしました。
茶籠(1点):
約 縦14.5㎝ x 横14.5㎝高さ16.5㎝
銅湯沸し(1点、風呂敷付):
約 直径11.5㎝ x/ 14.5㎝(口先まで)x 高さ13.5㎝ / 18.5㎝(持ち手含)、容量800cc
錫急須(1点、巾着付):
約 直径9㎝ / 10.5㎝(口先まで)x 高さ7.5㎝ / 13㎝(持ち手含)、容量200cc
林 紅村 作 入れ子茶碗(3点一組・巾着付):
大:直径6.2㎝ x 高さ4㎝、容量50cc
中:直径5.7㎝ x 高さ4㎝、容量40cc
小:直径5.0㎝ x 高さ4㎝、容量30cc
※写真の「銀 弁当箱三ツ重」は、別販売となります。こちらは、ご注文頂きましてから、約1ヶ月半後のお渡しとなります。
価格¥400,000 (消費税抜き・excluding tax)
(staff nakano)
---
Take a tea basket out with you on sunny day…
2014.05  Tea container
To commemorate the 175th anniversary of Seikado, in January 2013, we held an exhibition in Paris.
A tea basket which contains a silver pot was one of the main pieces we showed for that exhibition.
The theme is for an open-air tea ceremony, taking a tea basket out on a sunny day and to enjoy tea, while feeling the change of the season in nature.
With that thought in mind, we made a tea basket with a silver pot.
To be able to enjoy more easily, we have made the tea basket with a copper tea pot.
Take this basket out with you to enjoy a cherry blossom party in spring, a picnic on the hills and fields in the season of new leaves,
or when watching the scarlet maple trees in Autumn. Enjoy each season's precious moments in nature with this tea basket.
Tea basket with Copper teapot set   ※ sold out
• Tea basket (1 item)
approx.  length 14.5cmx width14.5cm height16.5cm
• copper pot (1 item comes with a wrapping cloth)
approx.  across11.5cm x/ 14.5cm(up to nozzle)x height13.5cm / 18.5cm(incl. handle)capacity 800cc
pewter pot (1 item comes with drawstring bag)
approx. 9cm / 10.5cm(up to nozzle)x height 7.5㎝ / 13㎝(incl.handle)、capacity 200cc
• Nest of bowls made by Hayashi Kouson (three-piece set)
L:across 6.2㎝ x height4㎝ capacity 50cc
M:across 5.7㎝ x height 4㎝、capacity 40cc
S:across 5.0㎝ x height 4㎝、capacity 30cc
※Set of three silver lunch boxes as shown in the picture, sold separately. Production time is about a month and a half.
price ¥400,000 (excluding tax)
お買い求めについて
清課堂オンラインストアでは、この他各種新作も取扱いしております。