(English follows Japanese)
12月に入り、今年も残すところあと少し。
今年、皆さんはどのような1年を過ごされましたでしょうか。。。
清課堂は今年で創業175年目。
ホームページをよくご覧頂いている方は既にご存知かと思いますが、例年になく、数多くの新作を発表することができ、又、皆様にもご好評を頂くことができた1年になりました。
パリでの展覧会から始まった175年目もあと少し。
175年目の締め括りでもあり、又、新たな試みの第一歩目として選んだのが、従来お作りしてきたものとは少し趣の違う、さまざまな表情を持ったデザート皿。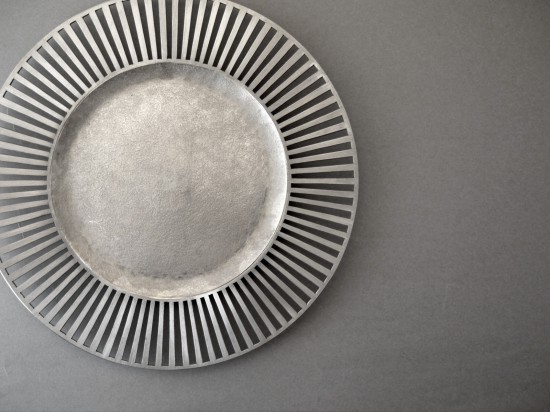 しんしんと冷える寒い夜、ピンと空気が張りつめた夜空には銀色に輝く月や星々。
家の中では、あたたかな夕食の後、ほんのり甘いデザートと一緒に大切な人と過ごすひと時・・・
そんな場面を思いながら、それぞれに、柔らかな銀色の光で夜空を照らす月の様々な表情をイメージして
お作りしたのが錫デザート皿「可染の月・かぜんのつき」。
"可染・かぜん"とは、銀色の異称で、それぞれのお皿に月の様々な表情を表した名前を付けております。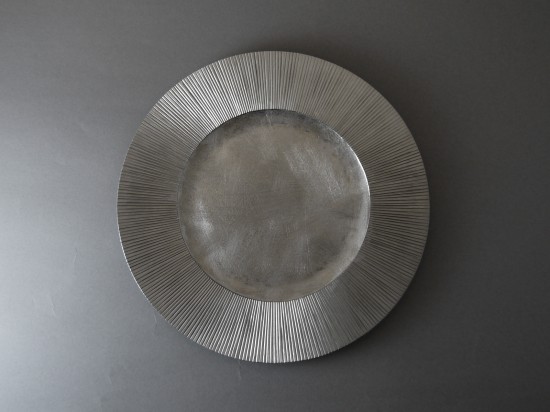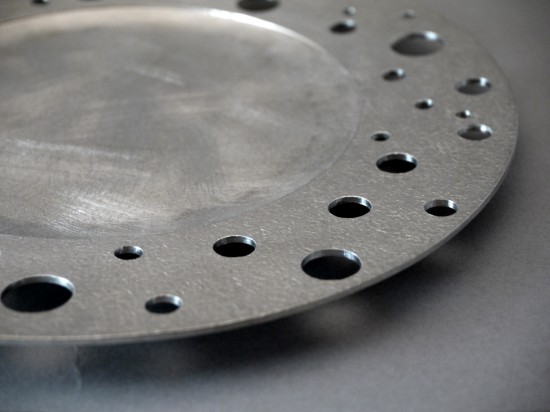 デザート頂くひと時は、食事を楽しむのとは又、違った緩やかなひと時。
お気に入りの紅茶や、又、ワインなどのお酒と共に頂くのも格別です。
窓辺から見える月を眺めながら、柔らかな可染に光る錫製のデザート皿で素敵なひと時を過ごしてみては如何でしょうか。
(staff  nakano)
錫デザート皿 「可染の月・かぜんのつき」 Dessert plate "kazen no tsuki"  
Diameter of 210 mm
■烟月・えんげつ  "Engetsu"
■月夕・げっせき  "Gesseki" ※ SOLD OUT こちらの製品は完売いたしました。
■幻月・げんげつ  "Gengetsu" ※ SOLD OUT こちらの製品は完売いたしました。
■天満月・あまみつき  "Amamitsuki" ※ SOLD OUT こちらの製品は完売いたしました。
■月虹・げっこう  "Gekko" ※ SOLD OUT こちらの製品は完売いたしました。
■月暈・つきかさ  "Tsukikasa" ※ SOLD OUT こちらの製品は完売いたしました。
---
Dessert plate "kazen no tsuki" ※ SOLD OUT こちらの製品は完売いたしました。
December 2013
It's already December, and the year is almost over.
How was this year for you?
This year we celebrated our 175th anniversary, and anyone who often visits our homepage will know that we have introduced more new products than usual.
We are delighted to have been of custom to you.
The 175th anniversary year that started with an exhibition in Paris is almost over.
As a way of marking this we chose to make something a little different from usual, a dessert plate.
On a cold, quiet night, the stars and silver shining moon light the dark night sky,
while inside, after a warm meal, one spends a precious moment with someone special eating a sweet dessert.
With that thought in mind, we made our "kazen no tsuki" dessert plate,
imagining the softly changing silvery light of the moon shining in the sky.
"Kazen" is a different way of saying silver, and we named each plate with a different name for the moon.
Eating dessert is a more relaxed experience than eating a main dish, an indulgent moment enjoyed with your favourite wine or tea.
Why not spend that special moment with this shimmering "kazen" plate made from pewter, while peering at the moon through the window?