(English follows Japanese)
新しい茶入が完成しました。
昨年暮れに試作に取り組んだ茶入れが大好評でしたので、製品化することになりました。「中次茶入(極小)」です。
持ち運びにも易い茶入れを幾種類か製作しています。その中でも最も小さいタイプの一つです。大きさは、約4×4×4センチ。手のひらに乗るほどのもの。密閉度の高いものが作れる錫(すず)を用いて製作しています。
A new tea container has been completed.
Because the tea container that we made for trial purposes towards the end of last year was well received,
we decided to turn it into a product. This is called Nakatsugi type tea container"(extra small).
We are producing a few different kinds which can be easily carried around. This one is the smallest type.
The size is approximately 4×4×4cm. It can fit in the palm of your hand. It is made using pewter, which is good for making airtight containers.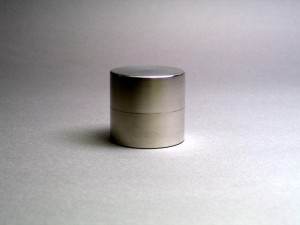 お買い求めについて
京都寺町二条の店舗の他、オンラインストアからもご購入いただけます。
清課堂オンラインストアでは、この他各種新作も取扱いしております。