(English follows Japanese)
※こちらの「銅湯沸し・大」は販売終了致しております。
  This product has been discontinued.
お客様からのご要望の高かった、銅製いぶし湯沸しの大ぶりなものが出来上がりました。設計から道具作り、材料の加工から仕上げまで、4ヶ月以上を要しました。
We have completed a larger version of the oxidized brass kettle, which was in high demand by our customers. From the processing of materials to its finish, it took over 4 months to complete.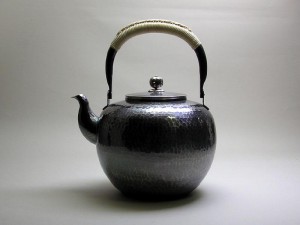 業務用(店舗使い)には、従来の大きさのものでは小さすぎて使いづらかったとのこと。こちらの新しい型は、1.8リットルが入ります。銅の直径は約16センチ。
For business use (in stores and offices), we learned that the previous size was too small and difficult to use. This new size can contain 1.8 liters. The diameter of the kettle is about 16cm.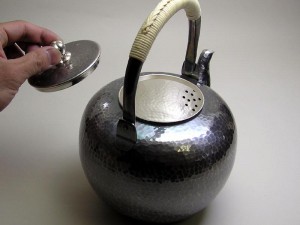 湯沸しと名づけていますが、番茶・ほうじ茶などをそのまま煎じることを考慮して、粗目の茶漉しを施しています。火に直接掛けていただけますし、急須代わりにもお使いいただけます。
Although we are calling it a kettle, we have considered its use for directly brewing bancha (coarse tea) or hojicha (roasted green tea), and have given it a tea strainer. It can be directly set on heat, and can take the place of a tea pot.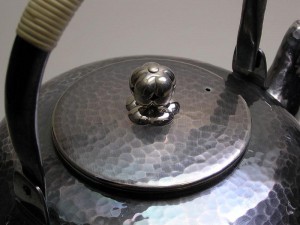 ツマミは、昔ながらの「梅」。本体、ツル、ツマミ部分も全て、黄銅製。硬く耐久性に優れ、比較的軽く作れるのが特徴です。銀メッキを施し、さらに古美色の一種、「黒いぶし」をかけています。
The knob is an old fashioned "plum blossom." Everything including the knob and the handle is brass. It is very durable and can be made relatively light weight. It has been silver plated and oxidized.
※こちらの「銅湯沸し・大」は販売終了致致しました。
  This product has been discontinued.
お買い求めについて
同じシリーズ、1.2リットルの湯沸かしを京都寺町二条の店舗の他、オンラインストアにてご購入いただけます。
・黄銅 イブシ湯沸(1.2リットル)
清課堂オンラインストアでは、この他各種新作も取扱いしております。