(English follows Japanese)
私共で製作をしている「根付」は、本来「提物」通称「ぶら」とよばれる女性向けの装身具の一種です。古来、どちらかというと「根付」の指すものは、男性用の装身具が多かったようです。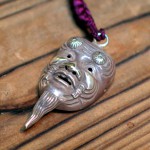 写真は、弊堂でも珍しい部類に入ります、男性向けの根付。能面「翁」からモチーフを得ています。本体部分は銀製(銀95%、銅4%)で、表面にはいぶし(古美)を人工的につけています。
本体約4センチ×2センチ。銀は比重が重く、ズシリとした質感です。この重い銀を用いて大きなものは作れませんが、見た目の存在感は大きいと思います。
※ sold out こちらの製品は完売いたしました。
お買い求めについて
京都寺町二条の店舗の他、オンラインストア「装い」からもご覧いただけます。
清課堂オンラインストアでは、この他各種新作も取扱いしております。
Netsuke for men Okina" ("Old Man")
The "netsuke"(miniature sculptures) that we make are actually a type of accessory geared toward women called "Sage-mono"(hanging object), commonly known as "bura." In olden times, however, it seems that things referred to as "netsuke" were mostly men's accessories.
What is shown in this photograph is a netsuke for men, an unusual piece even for our studio. We used the
Noh mask "Okina" as a motif. It is made of sterling silver (95% silver、4% copper), and is oxidized on the surface.
It is about 4cm×2cm. Silver has some weight, and it does feel heavy when holding it. We cannot make anything too big using this weighty silver, but I feel that it has a large presence visually.
※ sold out