(English follows Japanese)
早いものでもう11月。一年が、あっという間に過ぎてゆきます。納期に終われる毎日で、なかなかじっくりと腰をすえて創作にかかる時間出来ません。
さて、一年十二カ月を草花をモチーフにした、銀製の菓子切に好評を頂いております。「花の十二カ月」がテーマです。
まずは、この11月「菊」。菊は古くから茶道具などにも頻繁にモチーフとして登場する、日本では大変ポピュラーなもの。92.5%銀に7.5%未満の銅を添加した強い素材を用いて製作しています。長さ約11センチ。菓子切りには、収納用の鞘をお付けしています。
一月: 水仙
二月: 梅
三月: 桜
四月: 鈴蘭
五月: 百合
六月: 菖蒲
七月: 朝顔
八月: 向日葵
九月: 桔梗
十月: 秋桜
十一月: 菊
十二月: 胡蝶蘭
銀菓子切 の一部をご紹介いたします。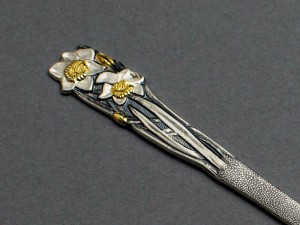 ・銀菓子切 水仙(一月)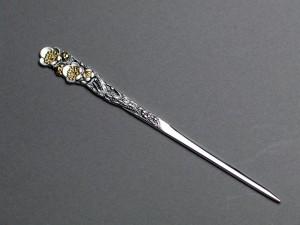 ・銀菓子切 梅(二月)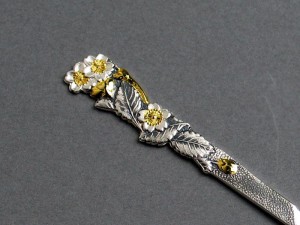 ・銀菓子切 桜(三月)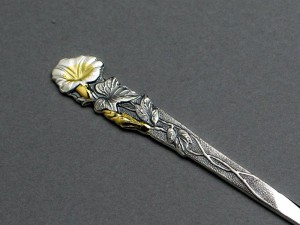 ・銀菓子切 朝顔(七月)
小学生の頃、夏休みの宿題に朝顔の観察日記をつけていたのを思い出します。
お買い求めについて
京都寺町二条の店舗の他、オンラインストアからもご購入いただけます。
清課堂オンラインストアでは、この他各種新作も取扱いしております。
---
Flowers of the Twelve Months: silver wagashi cutters
It is already November; the year has passed by very quickly. Constantly being pressed by deadlines, it is difficult to find the time to settle down and create my own work.
Sterling silver wagashi cutters with plant motifs according to each month has recently been popular. The theme of this series is "Flowers of the Twelve Months."
The month of November is "Chrysanthemum." The chrysanthemum is very popular in Japan, and has frequently appeared in tea utensils for a long time. We are using sterling silver (92.5% silver, 7.5% copper), which is a very strong material. The length is about 11cm. The wagashi cutter comes with a small case.
January : Narcissus
February : Plum blossom
March : Cherry blossom
April : Lily of the valley
May : Lily
June : Iris
July : Morning glory
August : Sunflower
September: Balloonflower
October : Cosmos
November : Chrysanthemum
December : White Orchid
Here we will introduce a few of the ones listed above.
・The flower of January, narcissus.
Morning glory, the flower that lasts from the beginning of summer through July. I recall the days when I was in elementary school and kept an observation journal for homework during summer vacation.